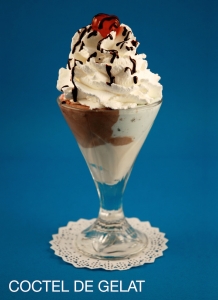 Horchatería Sirvent in Barcelona know how to combine the flavors of ice cream to rid the palate in emotions and combat the summer heat.
The cocktail ice cream is created with a base of vanilla ice cream craft on which are placed, intermingling, homemade ice cream strawberry, pistachio and chocolate. Everything is covered with natural whipped cream tower at the time topped by a cherry and washed down with chocolate syrup.
Be captivated by the blend of flavors. You can try this cocktail and many other specialties in our horchaterías at Parlament 56 and 110 Balmes street of Barcelona. We will be happy to make you enjoy your sense of taste.
Bon appétit!