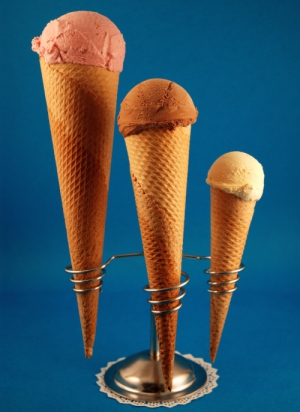 Sirvent horchata in Barcelona you will find the best waffle cones for ice creams spectacular we do in Barcelona.
As we know, the cornet is one of two essential parts of traditional ice cream, and that is, yes we can choose to take a good ice cream in a cup or glass, but if we are very gelato we love ordering an ice cream with two balls ice cream, and before choosing a good cornet, either with drawings, the traditional cross, wrapped in black or chocolate diamonds.
In Horchatería Sirvent Barcelona know how important it is for you a good cornet, and is actually ice cream can already be as rich and good as possible, that, if we are not under the balls of ice cream a good cornet, can be a gastronomic horror.
We must know how to choose a good cornet, while a good ice cream in the Sirvent Horchatería of Barcelona, ​​will find multiple ice cream flavors, from the most traditional like strawberry, chocolate, lemon or vanilla, to those who are a little more innovators like … if you want to know, you will have to come to one of our two stores in Barcelona, ​​located in Parlament street # 56 and # 110 Balmes street.
Everyone, when choosing an ice cream, we should think very well that cookie cornet ask for our precious and rich ice cream … you will have to choose the taste or taste in your Horchatería store nearest Sirvent Barcelona.
See you soon and remember always choose the best for your waffle cone ice cream.