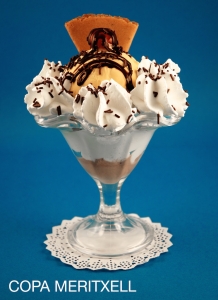 From Barcelona Horchatería Sirvent  pleased to introduce this gift for the palate.
A secret lurks in the background that will make this drink a treat for those who have young soul or small heart.
The Meritxel Cup consists of a scoop of vanilla carrying a range of biscuit by peineta and chilli to give more splendor, is surrounded by cream, lots of natural cream and freshly assembled for you. Once you have finished with the vanilla and cream, comes the great final touch that gives our handmade chocolate ice cream, which will make you feel you want to order more.
Drop by any of our horchaterías located on the street Parlament 56 or on the street Balmes 110, both in Barcelona, and discover a world of sensations refreshing.
Bon appétit!