Today Horchateria Sirvent we are going to explain how to make good and homemade nougat Guirlache. For us, Guirlache nougat nougat is a very authentic, and largely because of its simplicity of cooking hand in our workshop, it is why today I will share some of their origin and also a recipe for that ye may do so in your own home to share this Christmas.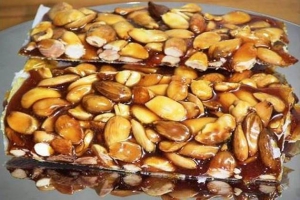 The nougat Christmas nougat Guirlache is made based on almonds and candy that links between them within the nougat, the candy is typical of areas of Aragon, though now Guirlache nougat, and therefore your candy too, it is spread throughout Spain. As expected, the origin of this typical Christmas nougat is of Aragonese origin and dates back to the Middle Ages, particularly when the Arabs had settled in the current Community of Aragón, is why in conclusion we can say that the nougat Guirlache is of Arab origin. On the other hand, we must point out that the word 'Guirlache' comes from the French "grillage" and basically refers to something 'roasting', in the case of serious Guirlache nougat almonds.
Before you begin to tell you the recipe nougat Guirlache, I have to say that eating nougat artisans is a way of eating healthily, and that most craftsmen do not use additives or preservatives to our nougat out as rich and healthy possible.
All told, the recipe started Guirlache Nougat, a recipe Sirvent Barcelona We love the probaseis into your houses to eat this holiday season. Remember, as we said before, that the authenticity of this nougat Guirache, is its simplicity to do, is not difficult, all you can take some kind of inconvenience can be the realization of candy, the fact is that you must very steady and fast, not slow anything podeus go because if all the candy dough solidifies, then you would be impossible to mix with almonds and these are pegasen, this pointed also will do when we go to make candy. Therefore: Let's start with the recipe!
First, as in all recipes articles that we published, we will present each and every one of the ingredients that you must have on your kitchen counter, to start making your Guirlache nougat:
Ingredients for nougat Guirlache:
300 gr. almond
300 gr. sugar
½ juice of ½ lemon and tangerine
AnisesWhen we have all these ingredients in our counter, we'll be ready to do a good nougat Guirlache for Christmas.


Recipe nougat nougat
Before getting down to work, we need to set aside part of our counter well cleaned and covered with greaseproof paper (baking paper), once we ready nougat nougat will miss there.

First, like almonds we will have not purchased toast, toast the almonds to touch our homemade nougat nougat, we can do it in a pan or in the same oven. Tostaremos almonds until they are brown on its surface or to taste Cook / a. Once all have good toast almonds, reserve.


Now it is the turn of the most important element of this nougat candy. Candy, as we said before, is responsible for joining almonds and thus make peculiar silhouette Nougat nougat.

To make nougat candy nougat, we take a pan and put over low heat, in this we take the sugar and lemon juice and tangerine. As you have seen before, for our nougat nougat we use the same amount of sugar almonds. If you want to give a different taste peculiar or nougat nougat our home … we can replace some of the sugar glucose by ingredient, thus get a special touch of flavor to our homemade nougat nougat. We just move fondant and juices from time to time so that it is done evenly.

Once the candy is well mixed, we'll take in the pan all almonds and aniseed, previously toast, and mix everything with a spoon, the proposed amount can vary depending on your taste (try to respect the ratio with sugar and almonds). All the candy and the 'content' it must mix well so that all almonds candy embadurnen well.

When we have the well blended, pour it on the baking tray we have prepared at the beginning of the recipe and we extend it with a roller (slathered in oil) to our liking, most widespread means less thickness nougat and vice versa.

Finally, when we have extended well let cool for candy and almonds get solidified. Let stand well on baking sheet and within ten minutes of rest before our homemade nougat nougat be well ready to eat desserts during these Christmas holidays.

This nougat not need cold for conservation or any other rule, but if you follow the recipe do not think you take too long in your home, that will be fine rich!

Now you just need to try this recipe nougat nougat at home and wonder you leave so that you can all enjoy a good guirache this Christmas nougat.

To complete lack add a very important step: If you do throughout the entire recipe … send a photo of your nougat cake nougat by our social networks (Twitter or Facebook ), and in this way you will encourage more people to try this great and rich nougat cake recipe guirlache .

Remember that you can also comprar our handmade nougat nougat in our shop nougat.

Greetings and very good meal!