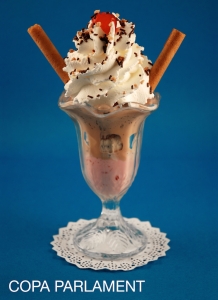 In Barcelona's Horchatería Sirvent, we have the perfect combination of our homemade ice cream balls. The Parlament cup honors one of our locations in Parlament street No. 56. Its combination of strawberry ice cream, stracciatella and spectacular truffle.
To merge these three flavors there is nothing better than cream and chocolate syrup and of course can not miss the xiquitillos and the icing to crown our glasses.
You can also find this magnificent sundae at number 110 Balmes, Barcelona. You will also find plenty of ice cream flavors and combinations thereof.
If you want to take a break and escape the heat, I waited in the Horchateria Sirvent Barcelona with all our well fresquitos handicrafts.
Bon Appetite!