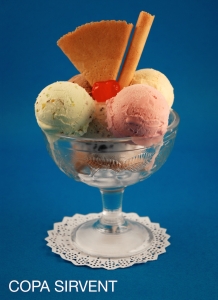 Horchatería Sirvent in Barcelona believe that no one knows his children better than their parents. That is why our sundaes are exquisite. Combine ice cream balls and they have unit allows us to offer our customers an explosion of flavors on the palate. This is certainly something anyone can do.
The cup which we have called our name, Sirvent. It consists of five of our tasty homemade ice cream: stracciatella, strawberry, vanilla, pistachio and chocolate; a perfect combination that is accompanied by a range of cookie and a xiquitillo. You can find this magnificent drink in any of our horchaterías located in Parlament street or in street Balmes nº56 # 10 of Barcelona.
Enjoy your icecream!