Sirvent Barcelona today we are going to have, or rather to dispel a few myths about ice cream.
Within weeks, the heat will begin to be among us, and every day we will have more desire to take a delicious ice cream, and that the case is not apetecerá us nothing but a good walk and suddenly stand in a good ice cream to taste the delicacy which are the ice creams.
But when you start to stop walking, and head to the ice cream shop, a thought is installed in your head: How much will get fat these ten minutes from sweet pleasure ?, this thought could prevent us from enjoying the whole of a spectacular artisan ice cream, and its concept is full of myths, like the previous question and others like: Did I cut digestion ice cream is cold ?, among many other questions.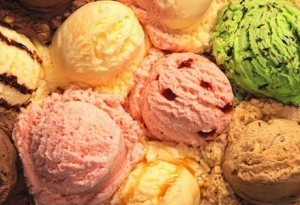 all that said perhaps from Sirvent Barcelona we can dispel some of the myths around the ice and consumption.
Ice cream fat?
Ice cream is a food rich in fats and sugars, so if consumed in excess, yes we can get fat, but the ice cream can not get fat like other dairy desserts such as a smoothie or other foods.
The key is to eat ice cream in a moderate way, thus does not have to have any implications for their body shape. As we have said in other articles, ice cream is a nutritious, healthy and in most cases food, if they are made with natural ingredients, we should not doubt the nutritional properties of ice cream. On the other hand, you should be aware that if you are in the middle of a diet to lose weight, as the best option is to choose an ice cream, which does not include fats in its composition.
The ice cream is bad for cholesterol?
The presence of cholesterol in milk shakes base is not too high, for example, milk, a high proportion of cholesterol in milk shake simple. On the other hand, ice cream-based skim milk or water contain no cholesterol, and therefore, we have no excuse not to take a delicious ice cream from time to time.
The ice cream is a treat, not bring us anything nutritionally?
As we have explained in previous articles in Sirvent Barcelona, ​​everyone, absolutely everyone the ice creams have many nutritional properties . And the nutritional value of the artisan ice cream is very high (except for water-based ice cream), and are an exceptional way to ingest vitamin B2, calcium and protein, especially recommended for children and the elderly.
Ice cream, as food, must no longer be regarded as a food lacking in nutrients and high in fat, and the ice cream is a balanced product and provides a number of very important calcium. Although this depends on the type of ice cream, completely varies, while nutrients; indicates that the average 100 gr. ice cream contains about 250 kcal., this amount is equivalent to less than 15% of the calories you need each day.
The ice cream is bad for your throat?
This idea runs from mouth to ear, not for a short time, but forever. The fact is that on the contrary, cold cream helps alleviate possible inflammations in the mouth or throat as you know those operated tonsil who, after surgery, you are advised to start feeding with small amounts of ice cream.
Ice cream can cause cuts digestion?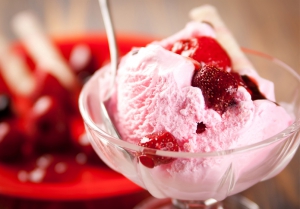 That is absolutely true, but only if you take lots and fast ice. To avoid this, you only have to take the ice cream slowly, so that warms the frozen ingested before reaching the stomach.
Ice cream can give headache?
Eating ice cream can sometimes cause headache, but this is due only in certain people, who are very sensitive to cold, they are encouraged to have a ganglion on the back of the palate and this may simply cause a similar reaction that of a migraine, but, yes, very limited because it lasts a few minutes and has no further effect.
Do they take hunger ice cream?
Everything depends on that ice cream and dairy based can remove it, but the water-based do nothing but increase hunger. This is only because the cold stimulates the taste buds, and on the other hand, the sugar causes segregation of insulin, causing us to feel hungrier than before eating the ice cream (water-based).
Can diabetics eat ice cream?
That depends on each patient, depending on the consumption of carbohydrates to be done. Many diabetics make a moderate intake of carbohydrates, and in this case the ice allows better contribution if done through simple carbohydrates.
Of course, basic to go, when you want to take a good ice cream, ice cream rule is that it must be simple. In general, the simplest versions of a food are those containing fewer additives. For example, if you like to go for a good ice cream, vanilla ice cream will have fewer additives that also vanilla (example) has other ingredients or to food colors.
Undoubtedly, the best option is to make our own ice cream with healthy ingredients, and with the help of the smallest of the house. If we remember in our own homes when we were little, making ice cream at home was the opening of the summer season. We can recover these traditions and certainly we realize that we make ice cream at home know better. It is true that takes time and planning. It will not be something that is done every day, but worth it.
Why have such a bad reputation ice cream?
Greetings and enjoy!