Nougat of Alicante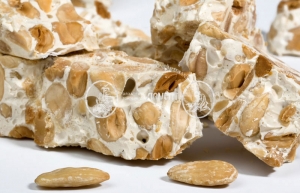 The artisan nougat Alicante is one of the most traditional Christmas desserts. The unique flavor and firm, hard and crunchy texture of this nougat have become the object of desire of many gourmets worldwide.
For this reason, we have decided to provide Sirvent our online store that consumers of any city can buy online nougat Alicante of the highest quality. With a single click, lovers of tradition and taste of our turronería of Barcelona can buy your online nougat with all the guarantees of security.
Why buy online?
Buy online artisan nougat Sirvent is a luxury for the most discerning palates. Our turronerías only physically in Barcelona, but our leaders have decided that the handmade nougat Alicante can be savored anywhere in the world without problems thanks to our online store.
Sirvent online store offers its artisan nougat Alicante with all the guarantees of security, both in the payment of the purchase and shipment of the product. Any lover of this specialty can enjoy traditional nougat at home in perfect condition, thanks to the online purchase of Sirvent.
The artisan nougat Alicante Sirvent is sent to everyone in a period of never more than two days time, and always with a perfect packaging designed for the product to arrive in the best conditions possible to your destination quality.
The online buyer Alicante nougat Sirvent may have a product as fresh as if to buy it in our physical store, especially thanks to the wooden packaging Sirvent nougat, which guarantees safety throughout the trip.
Alicante nougat quality
Sirvent can boast of being the best house artisan nougat Spain, thanks to the quality and freshness of its products. Our traditional artisan recipe makes nougats of Alicante Sirvent a sweet Christmas with an intense flavor and a crunchy texture and lasts only worthy of the most discerning palates nougat.
The use of Marcona almonds and rosemary honey of the highest quality is one of the keys to the traditional recipe nougat Alicante Sirvent, and one of those responsible for their resounding success at the tables around the world.
Buy craftsmen Sirvent Alicante nougat is a unique opportunity to enjoy a better quality product anywhere in the world. And get it is as simple as clicking on the online store Sirvent. With only this gesture, any lover of quality nougats may have the best artisan nougat at home.