Fine nougat Jijona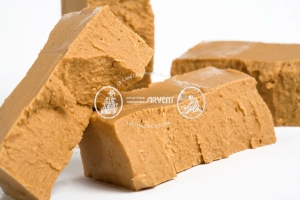 The artisan nougat Jijona of Sirvent is more than a Christmas dessert. It is a sweet made with natural products of better quality and following a traditional recipe over 90 years old. This delight is not only available to those who live near a store Sirvent. Jijona nougat buy online is now possible thanks to the online shop this factory artisan nougat.
Why buy online?
The Sirvent nougat artisan shops are located in Barcelona, but this does not mean that lovers can not buy this product online nougat from any other city. Sirvent online store offers the possibility of acquiring its nougat Jijona online with all the guarantees of security, both in the buying process as quick delivery and in perfect condition of the product.
Sirvent sends its nougat anywhere in the world within 48 hours, perfectly packaged. Customers who purchase in your online store will be guaranteed the reliability of both payments and shipments of handmade nougat Jijona of the highest quality.
safe packaging
Sirvent guarantees its users to receive Jijona nougats purchased online in the best possible conditions. It guarantees the same freshness and quality that have sold in physical stores. Packaging in wooden boxes ensures fully secure delivery and perfect preservation of the product all the way.
Jijona nougat best quality
Sirvent nougat artisans have become a benchmark for lovers of this sweet Christmas. The quality and freshness of its products, together with its traditional artisan recipe, make this the best home mark nougat Spain.
The supreme quality of the artisans of Jijona nougat Sirvent is supported by the use of the best raw materials. These are the selected Marcona almonds and honey rosemary. In addition, its development follows the traditional process established for centuries by the finest craftsmen of Xixona. In fact, Sirvent has own factory in this emblematic town. Therefore, it is the only turronería of the Catalan capital that can boast of offering its customers actually made in Xixona nougat.
This supreme quality of nougat artisans Sirvent is evident especially in the nougat Jijona. Both in its fine version and the grainy, flavor only it surprises those who try it for the first time in its intensity.
Buy online artisan nougat Jijona brand Sirvent is a unique opportunity to enjoy this sweet anywhere in the world. The firm guarantees the same quality and freshness that if acquired in any of its stores in Barcelona.