Today Horchateria Sirvent We want you to know the general recipe of how homemade smoothies are made with the freshest fruit market. That's why we invite you during the holidays or whenever you wish to make a delicious smoothie.
With this post and we published in our blog, many recipes nougat and nougat cakes, so if you've missed any of the recipes, we invite you to read and cook, because really out spectacular.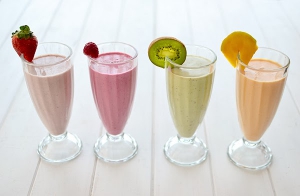 It goes without saying that if you are very fond of fruit, with a shake homemade fruit can enjoy a lot, and if the smallest of the house are not very motivated to say to eat a piece of fruit daily … you can make a spectacular fruit smoothie and ready to drink.
The recipe is generic for all kinds of fruit, it is a simple recipe and patiently goes very, very rich. And all this we invite you again to follow each and every one of these steps to succeed with your smoothie.
We started taking our blender or food processor you have in your kitchen, this will be one of the key tools to perform this smoothie.
As the fruit will be our base and beaten, we must choose the best fruit market, and yet we feel like the most! On the other hand, we can focus on a single fruit or add various types of fruit and do good 'shake Macedonia', so yes, we like to make a good choice with fruits we decided for our smoothie, this process is also part Fun to do a good shake. We at Barcelona Sirvent we suggest a list of fruits that are rich in either a smoothie:
Strawberries, raspberries, bananas, apples, kiwis, blueberries, mangoes, avocados or pomegranates
On the other hand, we have a good list of watery fruits, such as oranges, watermelon, cantaloupe and pineapple, among many others.
If you want to throw a safe choice … choose the combinación_ raspberry-peach or banana-strawberry milkshakes go well rich fruits of these combined. Once well blended the chosen fruit, we have to add the additional liquid, a liquid again we have freedom of choice, we, from Barcelona Sirvent we recommend a good list ancillary liquid for this rich smoothie:

Whole milk, (and for lactose intolerant people) Soymilk
Greek yogurt (option for a fruit smoothie thick)
tea (herbal, black or chai), this option adds antioxidants and makes less sweet fruit smoothie.
nut milk, or coconut amendra (give a touch different flavor to our smoothie)
concentrated fruit juice (any flavor)
Mineral water makes the smoothie more liquid (can try flavored waters lemon)The next two steps are optional, but if you do for your smoothies will be really great.The optional first step is to sweeten your smoothie. If you think or feel that your smoothie will not know sweet enough, you can help a little by adding a little sugar to the same blender, but on the other hand you can choose the option to add other seasonings, such as honey, nectar agave, stevia or ripe bananas, these condiments if we add to the same blender with the remaining fruit and liquid, we will be a well sweet and rich smoothie.In addition, the optional second step in your smoothie, is to give it some flavor. From Barcelona Sirvent we give other ingredients you can add to your smoothie to add or raise your taste. As in previous case, experience and enjoy trying different tastes with your smoothie. For added flavor you can add cinnamon, pepper, nutmeg, salt, almond extract, chocolate cream or vanilla extract, spices and many other extras that you can add or that you please try for your delicious smoothie. A third step very optional if we are in summer, or hot and we want a shake of good fresh fruit is add ice cubes . If so, once we have all our smoothie blender, we will directly add a few ice cubes and be a well fresh smoothie. True, if you're worried that your smoothie become too liquid, add a couple of ice cubes, if you later want to cool it a little, you always have the option to add more ice cubes. On the other hand, and another tasty option is to add to your smoothie, frozen fruit or slices of fruit, thus can replace the ice in your smoothie, remember that fruit the can freeze yourself or buy it directly frozen.Now it's time to mix all the ingredients in your blender at medium speed, once the blender and is mixed with all the ingredients seen increasing the speed of this. The mixture has to last a minute, and this time in your smoothie principle must be well prepared and rich.

If you follow this recipe you're going to be able to enjoy the best recipes of fruit smoothies in the Horchateria Sirvent Barcelona know and use in our own home.

Now we just need to try this fruit smoothie recipe at home and wonder you leave so that you can enjoy with all your family and friends.

To complete lack add a very important step: If you do throughout the entire recipe … send a photo of your glasses full of your homemade fruit smoothie by our social networks ( Twitter or Facebook ), and in this way you will encourage more people to try this wonderful and tasty recipe fruit smoothie.

Greetings and very good meal!