Today Horchateria Sirvent de Barcelona We want you to know the recipe nougat marzipan, nougat and well known to many of the richer for this Christmas nougat. That's why if these parties want to enjoy and show off your artisan candies, made by yourselves not miss this recipe marzipan nougat.
With this post and we published in our blog, three fantastic recipes nougat and nougat cake, so if you've missed any, I invite you to read the above recipes and cooking, because really out spectacular.
It goes without saying that if you are very fond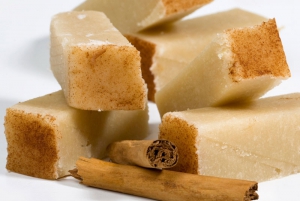 of this nougat nougat marzipan going to enjoy very much. The marzipan nougat recipe is simple and patiently goes spectacularly rich. And with that, we start with the recipe for marzipan nougat, and as always start with a good list of ingredients for nougat.
Ingredients (for 8 people nougat)
ground almonds
1.2kg. sugar
1 egg
glucoseIf we have all these ingredients over marble from our kitchen, and we are ready to do a good nougat marzipan for the holidays.


Recipe marzipan nougat
First we will put 600 grams of sugar in a bowl, you add all the ground almonds (600 grams) and egg white. After everything into the bowl, we mix vigorously with the aid of utensils as they can be an electric beater.

The mix until well-blended.

A portion of this mixture, we booked for later, we take the remaining 600 grams of sugar and glucose, and we put everything in a bowl. This bowl we heat until sugar is melted and forms a caramel. While we are heating the mixture, remove and must be very consistent, otherwise the mixture would stick on the bottom of the bowl and burn.

When we have the well homogenized mixture therefore has been in the form of candy, so we add to the mix we had booked earlier (the mixture of almonds, sugar and egg white), at a time to be adding the candy to the mixture, stirring is going to make all content is properly connected and uniform.

Once we have the marzipan mixture nougat good uniform, and before it cools, will stretch the entire mass into a mold and let stand in a cool place (avoid the refrigerator). Let it sit for about 24 hours.

The day has passed, and nougat as well be ready to eat …? Yet, there is still a final touch to make it even nicer. Before serving you can sprinkle a little powdered sugar or other condiments, as they can be nuts or coconut, this way it will be more robust and more beautiful.

If you follow this recipe you're going to be able to enjoy the best receptas marzipan nougat in the Horchateria Sirvent Barcelona know and use in our own home.

Now you just need to try this recipe for marzipan nougat at home and wonder you leave so that you can all enjoy a good marzipan nougat Christmas.

We remind you that you can buy marzipan nougat in our shop < strong> artisans candies if you do not want to do it:)

Greetings and very good meal!