Sirvent we want everyone to eat and enjoy the delicacies that are nougats, in a row you will find a recipe nougat cream and nuts.
As with the rest of nougat recipes that I have been presented (and remaining to publish), we expect this nougat cake with cream and nuts you may get to enjoy much of nougat a very different way.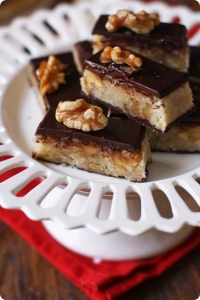 That's why, if you want to learn how to make your own nougat cream and nuts, must read the following recipe … and of course followed or while you read recipe, you must try to make this nougat cream and nuts for your family.
First, to say that if you are very fond of this nougat nougat cream and nuts you are going to enjoy very much. This nougat cream and nuts is very simple and easy to do at the same time is very rich.
Before you begin to tell you the recipe nougat cream and nuts, I have to say that eating nougat artisans is a way of eating healthily, and that most craftsmen do not use additives or preservatives to leave as our rich nougat and possible healthy, and of course eat homemade pies nougat is also very healthy.
All told, the recipe started nougat cream and nuts, a recipe that Barcelona Sirvent probaseis would love that in your houses.
First, as in all recipes articles that we published, we will present each and every one of the ingredients that you must have on your kitchen counter, to start making your nougat cream and nuts.
Ingredients for making a nougat cream and nuts
200 gr. icing sugar
100 gr. liquid cream
100 gr. nuts
200 gr. ground almond
200 gr. black chocolate
20 gr. cocoa butterWith all these ingredients ready in our counter we can start cooking our delicious nougat cream and nuts.
Recipe nougat cream and nuts
First, we will melt 200 gr. of black chocolate with 20 gr. cocoa butter in double boiler or microwave the same kitchen, we must be very careful not to burn. Once melted chocolate all we'll let cool and reserve.
Now we will put in a pan, all the cream and icing sugar, and we will over low heat until it boils. Simmer for about four minutes until it begins to resemble a kind of caramel.
Will add to the almond mixture and will remove well until a homogeneous mixture well.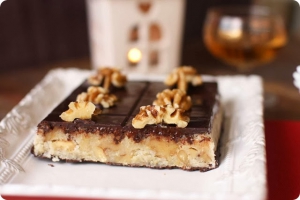 Remove from heat the saucepan, and add chopped or whole walnuts (to taste chef / a). Once mixed, and out of the fire, we will lose some heat and pour over the mold flattening well with a spatula.
Cover the pan with plastic wrap or parchment paper and let stand for about 24 hours entertaining. After that time, we will remove the paper cover, and reserve.
Of followed, we will melt again above the reserved chocolate and nougat smoothing cover all melted chocolate on top.
We wait until the chocolate completely curdle and desmoldaremos.
Once we desmoldado we can garnish with half sticking nuts with a little melted chocolate, grated or some dried fruit (all kinds of decoration to suit the chef / a).
If you follow this recipe you're going to be able to enjoy the best receptas nougat cream and nuts in the Horchateria Sirvent Barcelona know and use in your own home.
Now we just need to try it at home to do it and you get it great so you can enjoy a good nougat cream and nuts.
Now we just need to add a very important step: If you do throughout the entire recipe … send a photo of your nougat cream and nuts for our social networks (Twitter or Facebook ), and in this way you will encourage more people to try this great and rich nougat cream recipe and nuts.
Greetings and very good meal!