Horchateria Sirvent de Barcelona we want everyone to eat and enjoy the delicacy which are the candies for diabetics, in a row you will find the recipe for a nougat cake for diabetics (and for those who are not as well).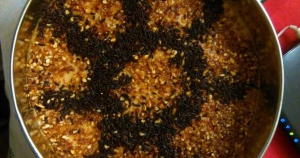 That's why if you want to learn how to make your own nougat cake for diabetics and non-diabetics must read the following recipe … and of course you have to try to make this cake nougat your house.
With this post we continue with the recipe followed publication of recipes; the first was to: How to make soft nougat cake ; and today published a recipe for a very special cake nougat How to nougat cake for diabetics .
First (and before you start cooking the cake nougat) say that if you are very fond of this cake nougat nougat're going to enjoy it immensely. This Diabetic nougat cake is simple and easy to do at the same time is very rich.
Having said all this started with the recipe nougat cake for diabetics. First we present all the ingredients that you should have up to start cooking marble cake nougat
For the Base of nougat cake:
1 packet of biscuits Maria (normal or unsweetened)
butter For the Fill of nougat cake:

or 30g sugar. powdered sweetener
of cream (1 small brick)
½ liter of milk
1 tablet of turrón Jijona (soft, normal or unsweetened)
2 envelopes of curdOrnament:

Crocanti almond
noodles chocolateWith all these ingredients we can make a spectacular and delicious cake nougat.To prepare the base of the cake nougat first have to crush the biscuits or simply putting crush between two sheets of plastic wrap and followed over the rolling pin had several times, remain finely crushed.Then we melt the 70g. butter in the microwave and mix with crumbs of crushed cookies into a paste.Once we have the well compacted pasta, we will have a circular mold, we will put on a tray or directly onto the plate where we will serve the cake nougat, we will place on the contour of the mold a strip of acetate paper, so that we easier to unmold the cake mold. Introduce the biscuit base at the bottom, pressing well with any utensil that is us as level as possible. And finally we will keep the mold in the refrigerator so that the base (mixture of biscuit and butter) to settle.


As nougat cake for diabetics it is
First we will have to chop the turrón Jijona and put it in a well large bowl with all ingredients. We will remove all the ingredients with a spatula until gelatin is completely dissolved and left a smooth paste.

Once we have that well homogenized pulp pour all I contended processing on the biscuit base we have developed earlier and we had left in the fridge. We tapped to settle, and we will keep in the refrigerator a couple of hours to settle well and cool.

We removed the nougat cake refrigerator , let stand a few minutes so the cake pulls away a little mold. Will remove the mold carefully and then acetate, decorate it with crunchy almonds and / or chocolate vermicelli, all part of decoration will post to taste Cook / a.

If you follow this recipe you're going to be able to enjoy the best receptas of soft nougat cake in the Horchateria Sirvent Barcelona know and use in your own home.

Now we just need to try it at home to do it and you get it great that you may enjoy a good pie soft nougat.

Now we just need to add a very important step: If you do throughout the entire recipe … send a photo of your soft nougat cake for our social networks (Twitter or Facebook ), and in this way you will encourage more people to try this great and rich cake recipe soft nougat .

Greetings and very good meal!