Hi everyone, and welcome back to web portal Horchateria Sirvent de Barcelona. In our section blog, as you know and can find everything from recipes nougat, to recipes of all kinds of ice cream, through the rich horchata homemade nut milk, while you will also find real surprises as today's recipe.
Yes, you read that right, today's recipe is a real surprise, is that today's recipe is an article where we explain the recipe Chicken with horchata.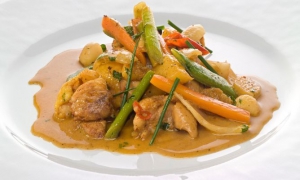 In fact, it may seem an odd recipe, but it really goes a very rich dish. So if you want to try and review based as this spectacular delicious chicken recipe with horchata, you must read and implement this recipe.
As in all recipes published in Sirvent Barcelona, ​​we start quoting all the ingredients we need to make this delicious chicken recipe with horchata. Ready?
Ingredients Recipe Chicken with horchata and garnish
1/2 chicken
4 mushrooms
3 dried tomatoes
50 gr. pine nuts
2 tablespoons green rice
A pint of Barcelona Sirvent horchata
1 teaspoon corn flour refined
Olive Oil
Sal
Pepper
Parsley
All these ingredients are the ones that should have over our marble kitchen just before you start to develop the rich chicken recipe with horchata. As you have seen, in the recipe we have added ingredients to make the lining plate, but must know that in this section are completely free to enter any garrison.That said, let's start with the recipe Chicken with horchata!
Development Recipe Chicken with horchata
First, we clean and prepare the chicken inside and out.
Once we have good clean and ready to cook, we'll put in a shoe, the shoe must be suitable for putting it in the oven, and while untaremos the half chicken with oil.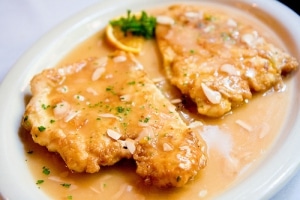 sprinkle the half chicken with a pinch of pepper and roast it in the oven, which as we have previously heated to about 180 ° C.
For an hour and a half we'll be roasting the chicken in the oven, and more or less every ten minutes sprinkle it with horchata. And when we have well browned chicken, it would withdraw from the oven and we will split very well.
Once we have out of the oven chicken, and we cut, we put to reduce the juice of chicken with all the horchata in a frying pan, and yet, it will link everything with a little cornmeal slightly diluted with water . Finished this process, chicken and reserve the juice with its mix.
Of followed, we'll get to develop the entire garrison of the recipe that we propose from Sirvent Barcelona. First, we cut julienne mushrooms, and pocharemos in a pan with a little oil to become faster.
When we have the good sauteed mushrooms, sazonaremos and descend fire intensity. At the same time you add the pine nuts and let a little toasted. Pinions not take too long to do so when they are ready, we will add the dried tomatoes, which you previously chopped, and sauté all together.
Once we have all this part of the full lining, fry the green rice in another pan with a little oil. When we have good sauteed what escurriremos on a simple absorbent paper towels. After five minutes, poured next to each other skillet mushrooms, tomatoes, etc. And together with the chicken we have booked before.
Finally we have the chicken with the garrison that we have proposed all together in one source, in case you have to warm up a little more, we will put the source again in the oven for a few minutes and you would list this wonderful chicken recipe with horchata and delicious side dish.
Serve chicken with garnish mushrooms, tomatoes and pine nuts and salsea with sauce horchata we have done previously. We will accompany with green rice we have prepared at the last minute and add a sprig of parsley to make it prettier.
There is now only one last step, and that is if you do the whole recipe completely, we invite you to envieis us a few pictures of gorgeous chicken dish with horchata. You can use our social networks, and thus more people animareis cook dishes such as this, which are very original and fun to do.
Greetings and very good appetit!