At present, the production of nougat is based on many variants, always tend to be traditional to those that joined previously which have varying demand or the invention of new candies in the market, all consumer tastes vary.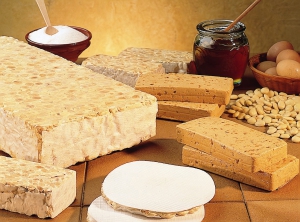 The most common nougat found in the market is the nougat or nougat Jijona Alicante, also known as hard nougat or Imperial, the latter was finished calling 'nougat Alicante' by the high concentration of hard or imperial craftsmen nougat in the geographical area of Alicante, with the same explanation is nougat Jijona, or also known as soft nougat, the two areas were recognized for their leadership and great art in a production of hard and soft nougat respectively.
Today the co-producers of Alicante and Jijona nougats remain the main reference in the production of this fine delicacy of the Christmas: nougat artisans. But on the other hand are major figures of the production of artisan nougat as Horchateria Sirvent de Barcelona in Barcelona, or as big brands or producers in Aragon Mancha.
As we say and do in Barcelona Sirvent, every good nougat craft production starts with a perfect choice of almonds you want to use the peel and toasted almonds well. Followed by this, as almonds are introduced into a giant blender, where they are applied hot, while leaves mixed with sugar and honey, all diluting with water and adding egg white that this will give more consistency to the paste Ultimately, what will end up being the artisan nougat.
All this mixture is blended with almonds, and at the appropriate time the resulting slurry is taken and introduced into molds.
For all production of nougat Jijona also called soft nougat, you start with the same manner as above (hard or Alicante nougat) but in this nougat will not add the egg white to non-hardening and the pasta was so consistent. Once we have formed and homogenized with almond paste will be passed by a mill to reduce the kneading fine shreds.
Done this step the resulting paste is passed through refiners to reduce the size, all master craftsmen like nougats, like the introduction of small pieces of toasted almond, in this way will be looking for the most attractive appearance possible soft nougat table.
The mass after these steps is baked a second time, in a typical nougat perola where mechanically mixed using a tool that moves up and down simultaneously. This whole process can take more than two hours at a temperature of 80 ° C.
Once this process is passed to the molds that mass lose all the excess oil that exudes almond, while allowed to cool whole table of nougat.
All almond nougat containing classified qualitatively, and this classification is given by the minimum percentage of almond nougat contains that specifically.
For example, nougat Supreme quality is called when the hard nougat incorporates a 60% almond and soft Jijona or 64%. On the other hand, we find the extra quality, which incorporates Alicante nougat 60% and 42% leads Jijona almond content. Apart from its quality, all nougat can be kept for a year and a half without any problem, if properly stored, for example in the refrigerator, but you have to take a certain time in advance when you want to consume, thus the table nougat shall distil all almond oils which still retains, and that will give you a taste and a texture to the table exceptional nougat.
You have seen that all the nougat has to have a composition of quality, and this can only be provided by natural products, such as honey or almond topping the composition of the vast majority of current market nougat.
Turning now with almonds, we say that they are a unique source of vegetable protein, while, calcium and natural fibers, on the other hand, we provide necessary small amounts of phosphorus, iron and B vitamins among other elements necessary as the antioxidant vitamin E.
Now focusing with honey, we have to say that it is a biological product very, very complex, since it depends on many previous factors, such as its origin, composition, where climate has been created, and so on. Really honey is a concentrated sugar solution which contains, inter alia, carbohydrates, enzymes, amino acids, sugars and other acids.
Finally, a very important thing to note, nougat not only do not contain cholesterol, but fights it with all its contents and properties.
Nougat, a work of artisans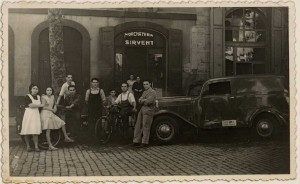 For little to introduce us in any workshop of a master craftsman nougat, we appreciate the good work of good nougat. we see that the affection with which he prepares traditional sweet is one of the key elements for a good nougat by hand, as in Horchateria Sirvent de Barcelona.
And here, in Barcelona Sirvent for the best nougat, we use the best ingredients and the most appropriate, as well natural and carefully chosen almond, honey nutritionally speaking very rich or just a careful attention to each and every one of the processes All these elements will result in an excellent nougat.
With this we invite you to go through our stores Horchateria Sirvent, Balmes street Parlament 130 and 56 to try our nougat.
Greetings and very good meal!