Very good to all, and welcome again to the site of one of the most prestigious and best known of the entire city of Barcelona ice cream parlors.
Today in Horchateria Sirvent de Barcelona we have decided to introduce new flavors of ice cream are quite strange for most of us. Today in this article: the weirdest ice cream flavors in the world.
We're not in the summer, but we were neither when we published the first part of this article rarities refrigerators, do you remember that article? It was titled: exotic ice cream flavors you should try , it is that it is so.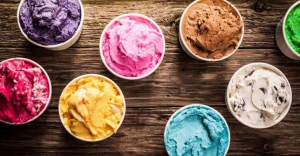 There are many ice cream, by its appearance, color, name, or simply because from knowledge of its ingredients, aside from the list of temptations refrigerators, and call: icy strange .
Horchateria Sirvent de Barcelona, ​​in any of our stores find ice cream like this, you will find the most typical and some other original, but it sure that everyone, absolutely everyone is very rich.
Today we are publishing the second part of the first article in which we explained flavors of ice cream, some flavors of ice cream that could be categorized as the strangest flavors of ice cream in the world, together with those who appear in today's article.
In Spain, in our society, the frozen foods are pleasant, and, in most times, we consume them with the simple goal to get us thirst and freshen up, and at the same time, because we like the taste. For example, last year, the ice creams were more successful in Spain, were the ice cream dulce de leche (which were consumed basically to combat thirst), followed by the typical chocolate ice cream and more refreshing and exotic as the coconut, pineapple or mango.
Of followed ye may know the strangest flavors of ice cream in the world.
We show the strangest flavors of ice cream
If now we present the strangest ice cream in the world, will not need to drop your head or say you do not know that you speak, when you presented as extraordinary an ice cream flavor a bit odd, the point is that already know that taste because so you will have presented here in articles web portal Horchateria Sirvent de Barcelona.
First, we present a ice cream with caramel flavored balsamic strawberries , a curious ice cream, but at the same time, allow us to travel through many countries.
We can find other flavors of ice cream a little strange, or rather, more unusual than cream or strawberry, this is the case of violet ice cream and pumpkin . In this case, the ice would give us a great touch of exotic and strange taste.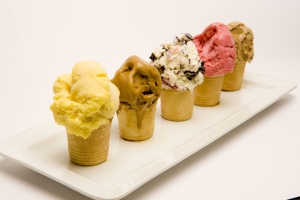 from followed, we find an ice cream already presented in the previous article flavors strangest world ice cream, but we liked it so much we decided to incorporate it again in this second article, and ice cream flavored bacon , but this time we find the variation of the bacon was caramelized.
Now, a whole new flavor of ice cream for us, and of course for the vast majority of you will be too, it is the fish-flavored ice cream. Perhaps this taste was unimaginable until the time you read this article: fish-flavored ice cream . No one really begins to think that could ever be a frozen so and so strange … the fact is that, yes there is, but what we have clear is that you have to be a great lover of fish to want to take an ice cream so strange as this fish.
At this time we will mention ice cream with one of the strangest flavors you will find in this article. The fact is that ice cream is flavored fried eggplant. An ice cream may seem a salty ice cream, very probably get a very sweet taste combined with the flavor of the fried eggplant.
I did not hear the ice cream parlors of the Galician coast because it appropriated in brief. The ice cream flavored octopus, promises much. Again we enter the marine world, and the sea has endless possibilities, why not take advantage of all marine opportunities, and make rich ice cream like this octopus? Still, we can include without any doubt in the pack of the strangest flavors of ice cream in the world.
The combination of food is on the agenda, but the combination of foods in an ice cream flavor is viable? In this case it was believed that yes, the fact is that a curry flavored ice cream and carrot was created. A combination would realize that perhaps for a good garnish dishes like chicken with horchata we did the other day.
Now we quote an ice cream when read, Italians, famous for their refrigerator reputation, will have two options. A scream and throw their hands in a flushed head, or two, trying to find the recipe for this ice cream so that it can offer its magnificent Italian ice cream parlors. The fact is that the spaghetti flavored ice cream and cheese will remain one of the strangest flavors of ice cream in the world, much as the Italians want to integrate it into their culture and refrigerator offer.
You imagined that there were these flavors of ice cream?
After all these icy explain to us has appeared a little hungry, and I will quote a few strange flavors of ice cream more … and we'll go for a drink.
Ice cream flavored sausages, mashed potatoes and peas
Ice cream flavored corn
Ice cream flavored with garlic
flavored ice cream flavored charcoal grilled
Ice Cream flavored French toast
liquorice ice cream
All ice cream mentioned above are strangers, perhaps not as exotic as those mentioned in the previous article, but all have their originality and therefore everyone should have an opportunity to be tasted by us.He said all this, which of these ice cream, ice cream flavor that never would test? And if you had to create a new flavor, what would that ice cream?
This concludes this article, wanting and wishing you open your mind to new flavors that perhaps seem a little weird entrance or perhaps directly exotic.
Greetings and very good appetit!