Today Horchateria Sirvent de Barcelona continue with all items oriented next summer, and in today's article we are going to teach special recipe unsweetened lemon sorbet.
The lemon sorbet is delicious food and very refreshing that, unlike ice cream, contains no fat ingredients, or egg yolk. It is for this simple reason, that the homemade lemon sorbet is less creamy than ice cream itself, but as we have said is more refreshing.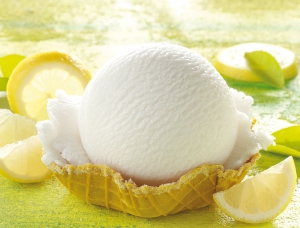 in hot weather is a delight to have a dessert as chilly as the lemon sorbet. In addition, this we have prepared with lemon, rich and fresh, yet without any hint sugar, so this lemon sorbet is ideal if you want a light dessert, we are on a diet or also, for people with diabetes who do not They can consume no sugar.
It is true that perhaps right now be thinking: but if we are in March, is still 'winter' … But why should we forbid winter is a good lemon sorbet? The answer is clear: NO! Moreover, the recipe will still hung on our website for a long time, like our delicious recipes nougat ice cream or like those find in our blog section.
And the fact is that when the heat, we urge solutions to alleviate the thirst that we have, and the fact is that today we present a spectacular recipe for lemon sorbet, you can do in your own home, on the other hand, if you prefer another also very refreshing option, you can use our other article of How make a lemon granita home .
Having said all this, then we offer the expected lemon sorbet recipe without sugar. A delicious recipe for delight the palate of those who want to cool off a good healthy way.
Ingredients for making a sugar-free lemon sorbet
200 ml. skim milk
200 ml. lemon juice
1 egg
4 tablespoons of sweetener
2 leaves of mint (optional)
If we have all these ingredients over the marble of our kitchen, and we are ready to do a good lemon granita.
Recipe unsweetened lemon sorbet
First, if we want to give a touch very special lemon sorbet without sugar, we can do it with mint leaves, then first heat the milk in a saucepan, add the mint, and remove from fire, followed, would leave it stand until cool, then remove the mint.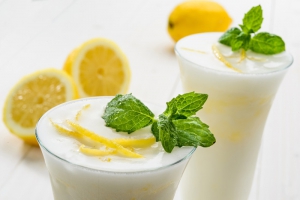 If you do not want to use mint leaves, it is not necessary to make the above procedure, simply use skim milk (200 ml.).
In either case what we will do is beat skimmed milk with 200 ml. lemon juice until the mixture is well foamy, then we will add all powdered sweetener and mezclaríamos well.
The'd get into a vessel closeable in the freezer cas, and would be preferable to use a container that is quite wide, thus will take less time to freeze completely.
On the other hand, that we should remove every half hour, this would do one to three times until we ourselves see that the mixture is half frozen. Then you would add the egg that you previously beaten strong point of snow, and would mix well with a whisk or any other cooking utensil.
Would put the entire mixture in the freezer and should be remove again every three quarters of an hour, at least once or twice. Once done all this preparation, we can let it rest, until the time we go to consume unsweetened lemon sorbet.
When we go to consume must be removed from the freezer at least one hour before and leave it in the fridge, we see that it has become ice and you have to let them go at their own pace thawing. When we can we remove to go undoing possible and serve in glasses.
Once in the glass should ideally leave the lemon sorbet few minutes to acquire a smoother texture. When you start to get a bit undone is when it will be perfect, but can also be consumed before, this is already the taste of the chef or cook.
A note that I share, is that by not carry any sugar, the whole process of preparing the lemon sorbet is a little slower, on the other hand if you test before freezing you will realize that the taste is incredibly strong, a frozen time this will change because you will lose a lot of intensity, also can be consumed like a granita, this would be before the time to add the egg, but keep in mind that the taste will be very, very intense, and perhaps too .
Now just you need you to try to make this magnificent unsweetened lemon sorbet and it comes out great so you can all enjoy a rich lemon sorbet.
Finally need to add a very important step: If you do throughout the entire recipe … send a photo of your lemon sorbet sugar by our social networks (Twitter or Facebook ), and this way you will encourage more people to try this wonderful and tasty recipe for lemon sorbet sugarfree.
Greetings and very good appetit!