First, to say that there is no unanimity about the origin of this fantastic sweet is the artisan nougat, although the first recipe was found in the Library of the Alhambra. The Arab influence is predominant in the protagonists of this spectacular sweet ingredients. Honey and almonds are Mediterranean products, and it is true that the nougat, he began making in the Levant, one of the areas where, interestingly, now less of this product is consumed: nougat.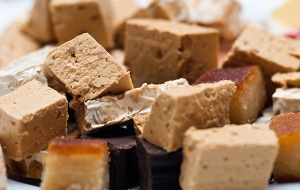 After years of economic crisis, nougat, one of the quintessential Christmas sweets, aims to consolidate its recovery this year and gain momentum in abroad; Yes, you read that right, abroad. And in the last year exports grew 12% nougat. Nearly 5,000 tons of nougat around Spain were sold, representing 15% of total production of nougat.
In 2009, in the field of nougat, only consumed outside Spain 5% of the total production of nougat; which reveals a major increase in international markets this great product. A little more concrete, and focusing on exports, 87% of these were sold to member states of the European Union, 3% in Asia and 2.7% in the Americas. With this success, or entertaining the beginning of this, the new market approach is valid.
New markets nougat
It is true that many of the companies in the sector are diversifying nougat and are opening new markets. According to many studies detailing, nougat industry is already present in the United States (although it always has exported more to Latin America), the Persian Gulf and North Africa.
One reason much of which is exported nougat in these areas, is that these countries use much honey and almond desserts, which are the basic ingredients of nougat. Hence you enjoy both output and exports nougat have their business success.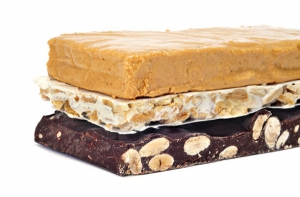 nougat manufacturers agree and provide increased product sales of between 2% and 3% in volume, resulting in 60 million tablets of nougat more, this past Christmas. 89% of what is sold throughout the year in the Spanish State only bill this Christmas and dates around.
more turroneras Regions
For the entire national market nearly 30,000 tons of nougat and marzipan every year, and much of this amount is allocated for the period of intended holidays. In 2014 the nougat production grew by 2%, after years of falling production and sale. In the territory of Spain each family eats an average of half a kilo nougat and nougat regions where most consumed are Asturias, Catalonia and the Basque Country.
The demand for this fantastic sweet, however, is lower in the regions of Murcia, the Balearic Islands and Valencia, although nougat began to take in this area of Levante, specifically in Alicante and Jijona.
A sector recovery has helped a lot, the Christmas baskets, seasonality of this product makes quickly or lift, but is expected to be productive comeback this year.
Sweets with followers
Nougat, also has adapted to this growing digital market; and you can already buy this fantastic sweet through online stores, such as Nougat Horchateria Sirvent de Barcelona, yet through different distribution areas. On the other hand, many large companies dl nougat sector and have a very good presence in existing social networks.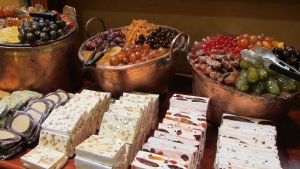 It is true that there has been an innovation in the market nougat industry, always responding to new consumer needs, for example, innovation can be found in much in the way of communicating in many companies that adapt as trademarks and already have profiles on popular social networks.
Across the table nougat teachers, innovation with sweet nougat results in all these new textures and flavors that can be found in all nougat artisan shops, on the other hand, we find a large catalog of products without sugar or gluten and smaller formats, always adapting the tradition and the art of nougat to consumer demand.
If we acquire one or more bars of nougat, nougat artisans we buy a product that is always rich in culture, tradition, heritage, … but above all in gastronomy.
Greetings and very good advantage with artisans candies!