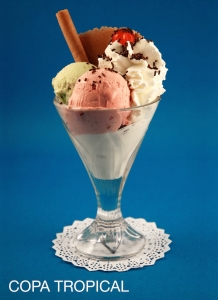 Horchatería Sirvent  in Barcelona we approach an exquisite fragment of the Caribbean that will melt in your mouth. On a base of a light lemon sorbet made by ourselves, like all our products, two separate homemade strawberry ice cream and pistachio intermingled with a suggestive column whipped cream icing topped with a succulent supported.
Everything is covered with chocolate shavings and served with wafers, which give this drink a touch of glamor reminiscent of the quiet mornings tropical beaches.
Drop by any of our horchaterías located on the street Parlament 56 or on the street Balmes 110, both in Barcelona, and discover a world of sensations refreshing.
Enjoy your icecream!