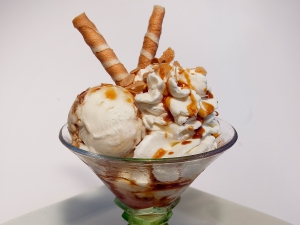 Ice cream cup recipe, with peach cream and dried fruit
In this article you will find the fantastic recipe of ice cream, the glass of ice cream, with cream of peach and nuts. As we can interpret reading the title of this magnificent glass of ice cream … is an innovation that promises a lot.
We started with the ingredients that we should have ready to start making this magnificent glass of ice cream, and we get to work:
3 lemon ice cream balls (3 balls / cup)
100 ml. Peach cream
3 dates
1 nut
Caramel sauce
Barquillo + decoration (optional)
Once all the ingredients are ready, we will start with the first step. First, we should have previously made the peach cream, and at the same time made, also fresh from the refrigerator.
Once we have the peach cream ready, we will start with the dates, which we should cut them and put them in the bottom of the glass where we want to serve the glass of peach ice cream and nuts.
Next, add all the peach cream on top of the chopped date base. Once the peach cream is distributed throughout the ice cream cup, we will put the three balls of ice cream (amount of balls to the taste of the cook).
And finally, we will chop the walnut into little good pieces, and we will distribute it on top of the ice cream balls. We can decorate the glass of ice cream to our taste, with the same sauce of caramel, or with a waffle, chocolate, or any other extra that we want.