Avui Orxateria Sirvent volem que conegueu com es fan les paperines dels gelats més rics de la ciutat de Barcelona.
Primer farem una mica de repàs de la història d'aquest fantàstic producte que són els cucurutxos. Els cucurutxos ja van ser esmentats en 1825 en llibres de cuina francesos, quan Julien Archambault va descriure una paperina fet enrotllant "petits neules". Una altra referència impresa a una paperina comestible apareix a Mrs AB Marshall 's Cookery Book , escrit en 1887 per Agnes B. Marshall (1855-1905) a Anglaterra, una influent innovadora que va publicar dos llibres de receptes i va tenir una escola de cuina. La seva recepta d'un Cornet with Cream diu que "els cucurutxos van ser fets amb ametlla i cuits al forn, no premsant entre planxes"; així va néixer l'avantpassat del cucurutxo tal com el coneixem avui dia.

La idea de vendre una paperina de gelat congelat (de manera que cucurutxo i gelat fossin un sol producte, emmagatzemable en un congelador) va ser un vell somni dels fabricants de gelat, però no va ser fins a 1928 quan JT Stubby Parker de Fort Worth (Texas) va crear una paperina de gelat amb aquestes característiques. Per comercialitzar-lo, va fundar la The Drumstick Company el 1931, que va ser comprada el 1991 per Nestlé. El 1959, Spica, un fabricant italià de gelat amb seu a Nàpols, va inventar un procés per aïllar l'interior del cucurutxo de neula amb una capa de oli , sucre i xocolata . Spica va registrar la marca Cornetto en 1960. Inicialment les vendes van ser dolentes, però en 1976 Unilever va adquirir Spica i va emprendre una campanya de màrqueting massiva per tot Europa, el que va fer que actualment sigui un dels gelats més populars del món.
Però saps com es fan els cucurutxos de gelat?
En primer lloc repassarem tots els ingredients que necessitem:
5 ous
de sucre
3 cullerades de crema líquida
de farina
1 cullerada de licor de cireres
Una punta de ganivet de pols d'enfornar. Si tenim tots aquests ingredients sobre del marbre de la nostra cuina, ja estarem preparats per fer uns bons paperines casolans per als nostres gelats.
Recepta dels cucurutxos:
En primer lloc posarem 100 grams de sucre en un bol, i li afegirem la crema al "bany maria", poc a poc li afegim la farina cernida barrejada amb la pols de coure, i la pols de cireres. Quan ho tinguem tot dins del bol, ho barregem enèrgicament, amb l'ajuda d'estris com poden ser unes varetes elèctriques. Ho barrejarem fins a aconseguir una barreja ben homogènia. I d'seguit usem una wlafera preescalfada per torrar.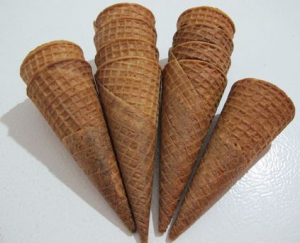 Un cop els traiem de la nostra walfera, la massa es solidificarà ràpidament, és per això que si volem fabricar els nostres cons per gelats (cucurutxos) ho hem de fer immediatament. Just després de treure'ls de la walfera els modelem immediatament, sobretot cal tenir cura de no posar la massa molt espessa entre els motlles calents de l'aparell. Amb la walfera ve un con per ajudar-nos a fer la forma del cucurutxo. Quan estigui a punt la massa la enrotllem sobre el con per donar-li la forma de cucurutxo, és important que la massa encara estigui calenta en donar-li la forma, si ja s'ha endurit no podrem, ja que com hem dit abans, la massa del cucurutxo es endureix bé ràpid.Són tan bonics i estan tan rics, ara ja només queda omplir del que més t'agradi Que tens pensat?Si seguiu aquesta recepta aneu a poder gaudir dels millors cucurutxos de gelat que a la Orxateria Sirvent utilitzem a casa nostra. Ara només cal que provis aquesta recepta de torró de massapà a casa i que et surti de meravella perquè pugueu gaudir tots d'uns bons cucurutxos de gelat aquest Nadal.
Salutacions i molt bon profit!